New Ford F-150 For Sale in Rochester IN
Useful Tech in the New F-150
When it comes to the job site in Winamac, IN, you don't have time for wasteful, superfluous technology that adds no value to your day. That's why the F-150 features laser-focused technology features that allow you to be more productive and drive your truck more efficiently. The available 8-inch LCD productivity screen sits squarely in the middle of your dashboard, providing information on fuel economy, towing, off-roading, and other important statistics. Powered with this info, you can tackle any task that comes your way.
For safety's sake, the F-150 features a rear-view camera. The F-150 doesn't include just one rear-view camera, though. The F-150 has four rear-view cameras around the body in strategic locations to provide a full view of any obstacles that may be in your way. Thus, even when you're hauling a giant load, you can travel with confidence and keep those around you safe.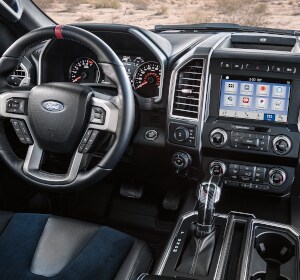 New Ford F-150 Delivers Power to Get the Job Done in Rochester, IN
The Ford F-150 combines rugged dependability, impressive power, unique design, and superior interior comfort to form a truck that deserves serious consideration as you search for your next vehicle. Reigning, along with its F-Series brethren, as the best-selling vehicles in America for more than 40 years, the new Ford F-150 continues and builds upon this legacy to provide you with the capabilities you need and the quality you expect.
Power for the Task at Hand
Available with up to a 5.0-liter TI-VCT V8 engine, the Ford F-150 will never be lacking for the power you need. Mated with a 10-speed automatic transmission, you'll always have the torque you need, even for the most difficult of tasks. Whether you're taking advantage of the up to 13,200-pound towing capacity or the up to 2,309-pound payload capacity, you'll get more done in less time in Rochester, IN with the Ford F-150.
Toughness to Pass Any Test
The best way to ensure your truck will pass the test of time is to start with a truck that can withstand anything you throw at it. The Ford F-150 can do just that. Built with a military-grade aluminum-alloy body, the exterior of the F-150 can stand up to unbelievable abuse while still shedding weight that allows it to be one of the most fuel-efficient trucks on the road. Underneath the skin, a high-strength steel fully boxed frame stays rigid and strong, providing the toughness you expect from a Ford truck.
Safety in a Ford Truck
The state-of-the-art rear-view camera system isn't the only safety feature on the F-150. Ford knows you expect a safe ride just as much as you expect a dependable ride, which is why the F-150 is equipped with a full suite of available crash-avoidance features. For example, the available Lane Keeping Assist System monitors the lines of the lane you're in to ensure you're not drifting too close to the edge. If it senses that you're getting out of line, it will alert you in the form of a vibrating steering wheel or torque sensations to get your attention and let you know you need to correct your steering. What's more, the F-150 received a "good" rating from the IIHS in each of six crash test metrics.
Smart and Spacious Interior
Even if you're not hauling or towing in Argos, IN, the cab of the Ford F-150 is packed with features to help you take on anything. Storage spaces include the large glove box, door trim panels, and the available flow-through center console, which is large enough to hold a laptop. Some trim levels of the F-150 also feature a fully flat rear load floor to allow you to haul wide items without needing to worry about the dreaded "center hump."
Quality From the People You Trust
At Rochester Ford-Lincoln, Inc., we can't wait to show you all the incredible features of the Ford F-150. Our friendly associates will give you a tour of the vehicle and take you out for a test drive so you can try out some of the unique features of the F-150 for yourself. Don't wait another second to improve your productivity with the power of the Ford F-150 in Culver, IN.
How can we help?
* Indicates a required field