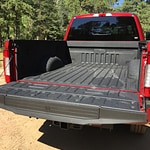 If you're not yet familiar with the many durability amenities found in the Ford Super Duty, a visit to Rochester Ford-Lincoln, Inc. is in order. Our team is ready with all the details on how this popular heavy-duty pickup truck brand can serve the needs of your family, business or farm, and we'll gladly offer you the chance to test drive as many Super Duty models as we have available.
If you require ample towing capabilities, an easy-to-access cargo bed, a spacious, well configured cab or all of the above, the Super Duty is set to deliver. The Super Duty you pick can be configured to tow up to 24,000 pounds with a maximum possible payload of just under 8,000 pounds.
The sturdy, high-strength steel frame supplies the needed stability to tackle back-country trails and challenging jobsites with ease and contributes to a smooth, secure driving experience in almost any weather.